Mobile Application Scan Tab
The mobile application Scan tab provides scan status, logs of scans performed and other information related to your selected mobile application. This tab also lets you add credentials for future scans.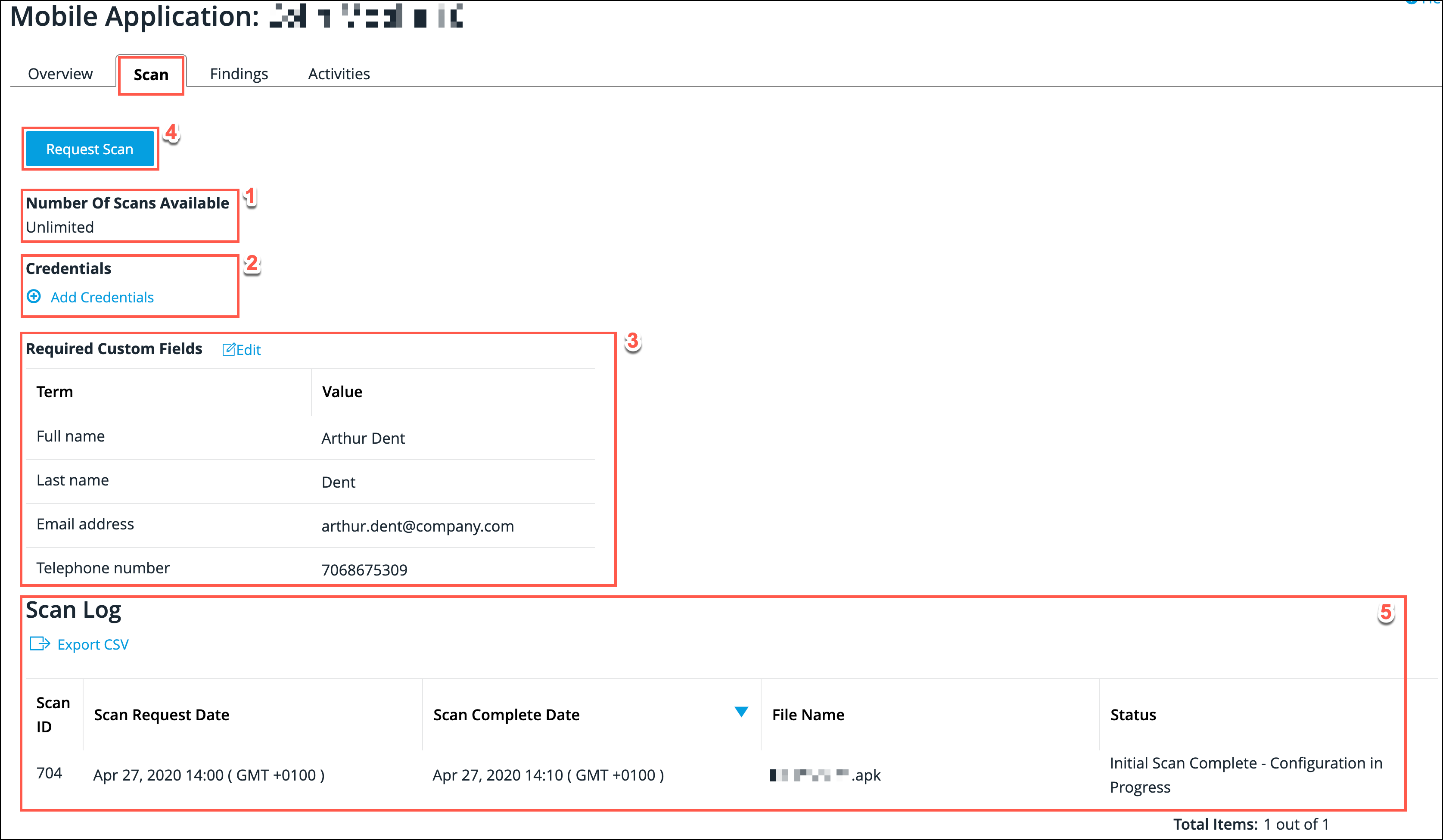 Field No.
Field Name
Description

1

Number of Scans Available

For mobile application assets, you have three scans available for each added asset, including your first scan during asset onboarding. However to re-scan a file, it must be uploaded again. This field notes how many scans you still have available.

2

Credentials

This field displays if there are existing credentials added for this asset. If there are existing credentials, you can click the Edit link associated with this field to edit those credentials. If there are no existing credentials, click the Add Credentials link to add some.

Populate the Username, Credential password, Confirm credential password fields and then click Save.

3

Required Custom Fields

This field displays all the Required Custom Fields that apply to your mobile asset. If necessary, you can edit these by clicking the Edit link associated with this field.

4

Request Scan

After performing the above checks, click the Request Scan button to commence scanning your mobile application file.

5

Scan Log

This table at the bottom of the screen provides an application scan history for the user. It records the following:

Scan ID - A unique identifier associated with one particular scan.

Scan Request Date - The completion date and timestamp for every scan performed on the selected application.

Scan Complete Date - The completion date and timestamp for when the scan was completed.

Filename - The name of the application file scanned.

Status - A status is displayed for each scan in the Scan Log table.

Export CSV - Export the entire Scan Log table in CSV format.