Obtaining the Sentinel Appliance
| | |
| --- | --- |
| | This section only applies to on-premise installations running AWS on Ubuntu 14 or later appliances. |
To obtain a Sentinel Appliance, log in to Sentinel and go to the Admin tab. Under Admin, select Appliance Management.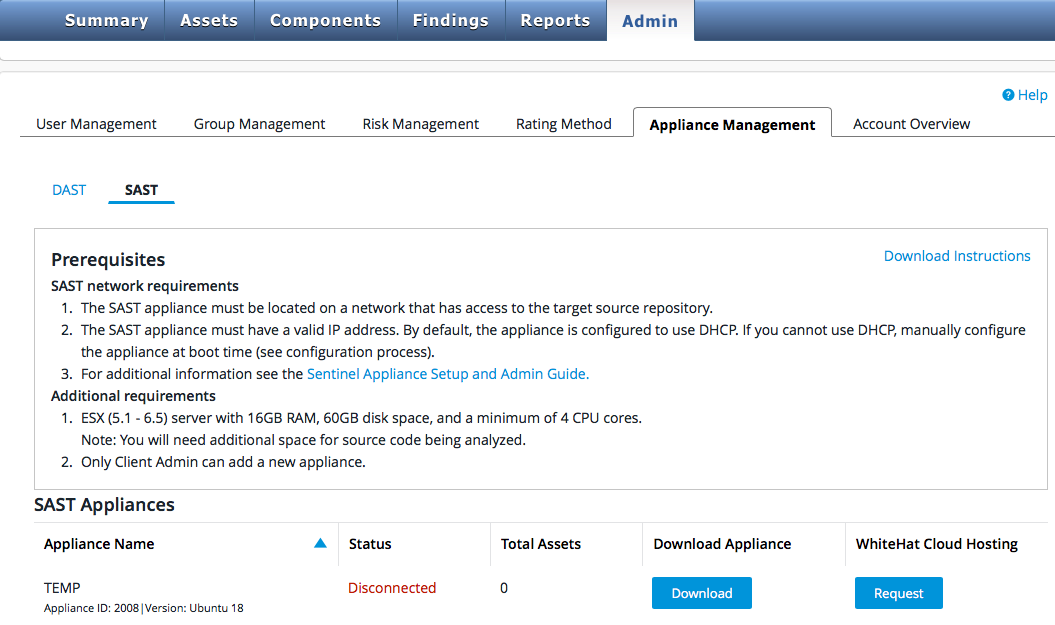 Depending on whether you need an appliance for Sentinel (DAST) or Sentinel Source (SAST), select the appropriate link at the top of the Appliance Management screen.
If no appliance is currently assigned to you, click on "Add an Appliance." Once an appliance has been assigned to you, you will be able to click on "Download" to download an OVA file with the appliance VM image.
Alernatively, for SAST appliance, if you have purchased a license for WhiteHat Cloud Hosting, you can click "Request" under WhiteHat Cloud Hosting to request that WhiteHat host the appliance for you in the WhiteHat data center. WhiteHat Support will contact you when your appliance is deployed and ready for scanning.
| | |
| --- | --- |
| | If you have an appliance and would like an additional appliance, please contact Customer Service at support@whitehatsec.com or by phone at 408.343.8300. |