Managing Licenses
Managing Licenses
Your licenses are visible to administrators with appropriate privileges under the Account Overview tab in Sentinel.
In the Account Overview section, you will see the Licenses Overview for Applications (Sentinel Source). The license overview will show you the license type, the number purchased, the number consumed, and the number available. In order to add an asset, you will need to have an appropriate unconsumed license available.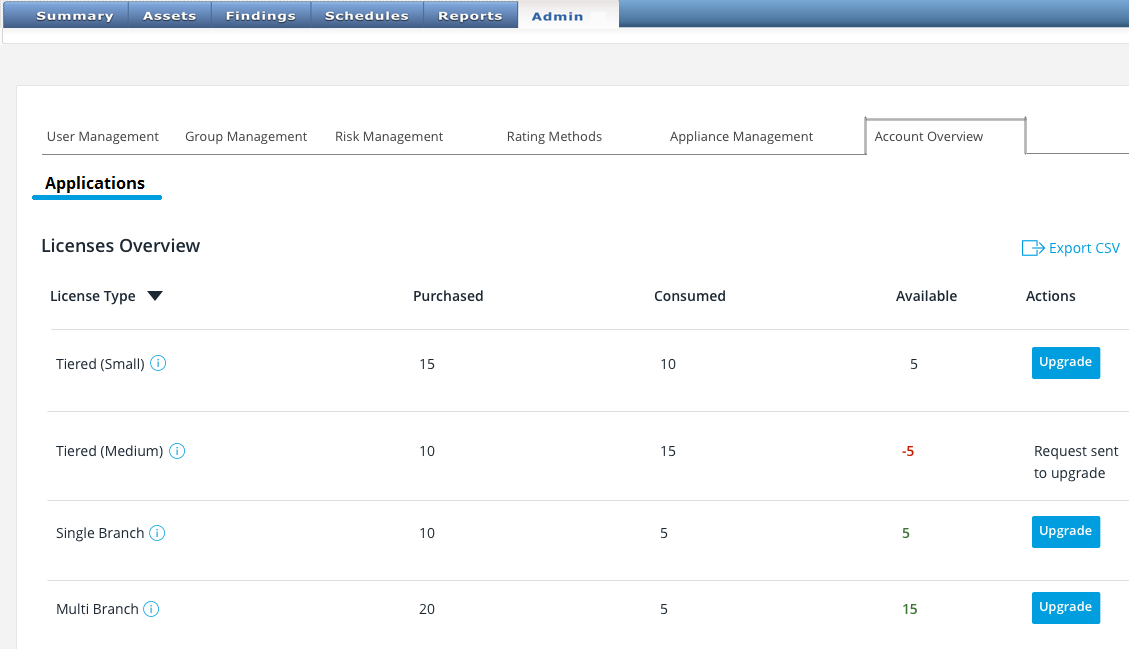 Determining the Appropriate License Type
Selecting License Types for Applications (Sentinel Source)
To determine the license type you will need for an application, you will want to run a "Pre-Scan." The pre-scan will tell you the number of lines of code scanned, the size of the file(s) scanned, and the application tier in Sentinel that matches the application.
Once you have added the application and the code base, go to the Asset tab, select the application, and open the "Scan" subtab for the application. In the "Scan" subtab, select "Start Pre-Scan."

The pre-scan will take several minutes; once it is complete, the scan information will appear in the "Scan Details" section and the "Start Pre-Scan" button will no longer be active. Information shown for the pre-scan will include the asset size, lines of code scanned, scanned file size, and extensions scanned.
Consuming a License
If an appropriate license type is available, click on "Request Full Scan." Your request will be verified and the initial scan of the asset will begin.
If you need to purchase one or more additional license(s), please contact Customer Support at support@whitehatsec.com. We will be happy to assist you.