Managing Your Appliance in Sentinel
The Sentinel UI allows you to perform some appliance administration tasks from Sentinel itself. To do this, log in to Sentinel, go to the Admin Tab, and select Appliance Management.

From here, you can view network requirements and current appliances and status (for DAST or SAST as shown), download an appliance, request WhiteHat cloud hosting for a Sentinel Source appliance, or download installation instructions.
| | |
| --- | --- |
| | If you have an appliance and would like an additional appliance, please contact Customer Service at support@whitehatsec.com or by phone at 408.343.8300. |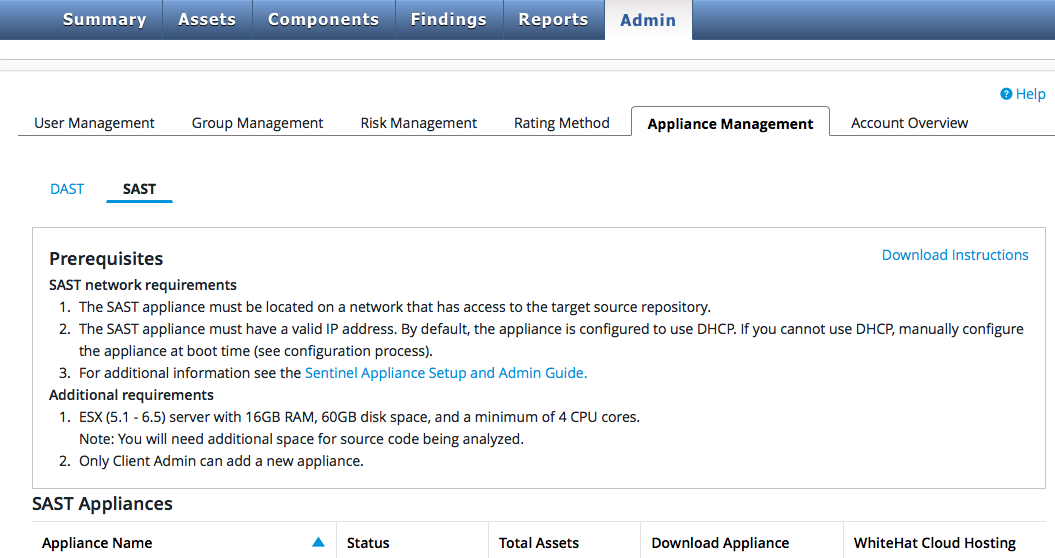 From the list of appliances, you will see each appliance's id and version (e.g. Ubuntu 18 is shown below), its connection status, and the number of assets (sites or applications) associated with that appliance.

Appliance Maintenance
WhiteHat will perform weekly WhiteHat and OS software updates and reboots of the Appliance VMs. Please coordinate with your Information Technology department to ensure that:
Regular backups are performed for the VMs, following the instructions provided by the virtualization vendor. We recommend that you comply with your corporate backup and retention policy. At a minimum, please perform backups weekly and retain them for a month.

Patches and firmware for the virtualization software and underlying hardware are up to date.
For more information about the Sentinel Appliance, please see: